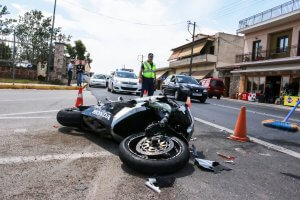 In April, Storage Wars star Barry Weiss was in a motorcycle crash in Los Feliz that resulted in serious chest and leg trauma. A black SUV pulled into his path while he was riding with a friend. He and that friend are now on the road to recovery like many other motorcycle crash victims across our state. Just in Riverside County, 737 motorcyclists were injured in 2018 crashes according to the California Highway Patrol Statewide Integrated Tracking System (SWITRS). What does this information mean for our local motorcyclists? Our Murrieta motorcycle accident attorneys take a closer look at this issue, what it means to riders, and how we can do something about it.
What Is the Most Common Motorcycle Injury?
A report published by the National Highway Traffic Safety Administration (NHTSA) claimed that the most common motorcycle injuries are usually inflicted on the lower extremities. NHTSA is not alone in this conclusion. The World Heath Organization (WHO) and the Association for the Advancement of Automotive Medicine (AAAM) also conclude that broken legs, ankles, feet and other injuries to the legs are the most frequent injuries suffered by motorcyclists. The area of the body to suffer the second highest incidence of injury are the arms/upper extremities. However, this only tells part of the story.
Though it's not the most common motorcycle injury, both AAAM and NHTSA pointed to head injuries as the most fatal type of motorcycle injury. Chest injuries turned out to be the second most fatal motorcycle injury. This is why many motorcycle safety organizations emphasize the use of motorcycle helmets and jackets as they try to reduce the number of motorcycle fatalities in our country.
What Do These Motorcycle Injury Statistics Mean for Riders?
Since a motorcyclist's arms and legs are most at risk while riding, any injuries suffered in these areas could affect a rider's mobility or ability to handle objects. If the rider's main employment involves lifting, carrying objects or manual dexterity, a motorcycle accident could leave them unable to work.
The same could be said about injuries to the head or chest areas, but these injuries are often even more expensive to treat. Organ damage from chest and brain injuries could require extensive surgeries. Some traumatic head injuries have been known to have lasting symptoms such as light sensitivity, headaches, and even loss in cognitive function.
How Can an Attorney Help a Motorcycle Accident Injury Victim?
At SD Injury Attorneys, we take the possible results of these injuries into consideration while handling your case. We understand how these injuries affect your life and try take steps to ensure any settlement or verdict takes your injuries into account. Our Murrieta personal injury attorney, Steven Gnau, has a record of success and happy clients. So, whether you have the most common motorcycle injury or the most uncommon, we are ready to help. For more information, give us a call at (951)370-1111.